Anatoli Karpov is the undisputed World Chess Ch
ampion.
Last month, JS&A chal­lenged Karpov to play against our chess computer.
We offered him $50,000 and a percentage of each unit we sold if he beat our game.
Karpov rejected our offer and quite frankly, we were at a loss to explain why.
Our concept was simple. If Karpov played against our computer, he would focus world­wide attention on our product.
This attention would increase its sales and win or lose, we would sell more computers.
We had to sell more computers. We wanted our unit to sell for $100 even though units with similar capabilities were selling for up to $400. But we had to do two things to keep our low price: First, we had to manufacture our unit in Hong Kong where labor costs are very low. Secondly, we had to sell large quantities to keep production costs down.
When we first announced our challenge, the Soviets rejected it. Could Karpov have been afraid to play against it? Or was the circus-like atmosphere that might surround the event not in keeping with the prestige of the coveted world title, even if Karpov won?
Quite honestly, we had no idea. So we asked Karpov for an explanation and got one. Here's what he said:
"I can appreciate your desire to sell the JS&A Chess Computer but you have missed an important point of the entire challenge. It took somebody to program the unit and since I am the world's chess champion, it is highly unlikely that the programmer person could beat me. You Americans have a saying, "Garbage in, garbage out."
Karpov continued, "Your unit is definitely a good product. I played several games at level six and found it to be a challenge even for me. What I like about your unit is that it is priced low enough so that most Americans can afford the unit and this will help promote chess."
The JS&A Chess Computer indeed has six levels of chess. Level one is perfect for beginners.
Level six is a real challenge for any Soviet Chess Champion.
LIKE PLAYING KARPOV
The system is the perfect way to sharpen your chess skills. It not only has six different skill levels, but if you are playing against the computer at level two and you are beating it, you can switch the unit to level six. It's like having Karpov as your new opponent-right during mid game.
To play against the computer, you enter your move on the unit's keyboard. You then wait until the computer examines all its options and selects its move. You then move the computer's chess piece to correspond with its request as shown on the display. A board layout is provided to show you where each chess piece should be moved.
The JS&A Chess Computer is programmed for such complex functions as castling, pawn promotion and enpessant. It also allows you to start in midgame, setting up any situation you choose. This is perfect for those players who wish to examine particularly intricate problems and allows for an infinite number of game variations.
SHARPEN SKILLS
If you already play chess, the JS&A unit provides a new chess dimension. If you haven't played chess, the system is a good way to learn and sharpen your skills.
The JS&A Chess Computer measures only 21/8"x 47/a"x 87/b" and weighs just a few ounces, so if service is ever required you can slip it in its handy mailer and send it back to our prompt service-by-mail center. Service should never be required, but it is reassuring to know that service is an important consideration in this program.
JS&A is America's largest single source of space-age products-further assurance that your modest investment is well protected.
We suggest you order a JS&A Chess Computer and use it for 30 days.
Play against it.
Raise or lower the level as you play and watch how the computer's personality can change right in mid game-from a tough competitor to a push over.
Test our level six and see if you'd have much of a chance against the Soviet Champion Karpov.
Then, after you've really given it a workout, decide if you want to keep it.
If not, you may return your unit within our 30 day trial period for a prompt and courteous refund, including your $2.50 postage and handling charge.
There is no risk.
Each JS&A Chess Computer comes complete with instructions and an AC adapter (no batteries are required).
To order our JS&A Chess Computer, send your check for $99.95 plus $2.50 for postage and handling (Illinois residents please add 5% sales tax) to the address below or credit card buyers may call our toll-free number below.
Karpov told us (and this is a direct quote)
"I have played all the rest of the American chess computers and find that the JS&A unit is the best value for the dollar. I will accept an offer to endorse the game, however, you can forget about your $50,000 offer and spend the money on advertising to spread the word."
Thank you, Mr. Karpov. We appreciate your honesty and your generosity and we promise to spread the word.
And you can help us America.
Order a JS&A Chess Computer at no obligation, today.
The new $100 JS&A chess computer will make computer chess an affordable game for the American consumer.
<![if !vml]>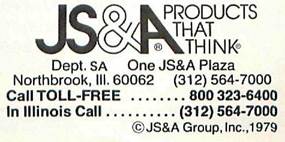 <![endif]>