Leiden 2013 was also the "release" date of a Self-Made Chess Computer, done by Maurice:

The ADINFER-ChessEVAL V10, 66MHz





First, many thanks to the creator of this wonderful machine.


Maurice is very passionate about chess computers, and since 2 years, he was designing and building his own ones for the pleasure of the Hobby.



1) ADINFER-ChessEval version Sargon 4.0, 20MHz
---

The first one was using the concept of the ARB (Auto Responsive Board), but 21 inch big!
So, 3 inches more every side than a normal ARB.


T

he board has 64 leds of 1mm diameter!
This is all handwork for the drilling: one mistake and you can throw away the board.
The functions, and a nightmare work for the lettering are also challenges to consider.
The PCB is a Sargon 4.0, 20 MHz from our mutual friend from the United Kingdom, Steve Braid.
This Number 1 worked beautifully.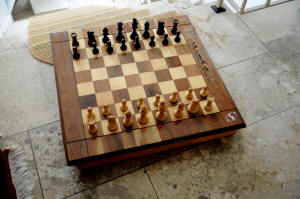 ADINFER-ChessEval version Sargon 4.0, 20MHz
However, Maurice was not satisfied completely of the result. From there he asked what could be improved.
For sure, I had ideas... and so...



2) ADINFER-ChessEval V9 (33 MHZ)
---

The Number 2 had the same board, but in 23 inches, two displays,81 LEDs, better function buttons, lettering andPCBPCB

V9 done by Steve Braid

....
I had the privilege to test it.



The computer was shipped and it arrived, but.... Customs were passing by there....
I leave that out of the story, but we were not happy at all..

However, I managed to solve the problems, and it worked

.
Maurice and I discussed and

... He decided to go for a Number 3!!



3) ADINFER-ChessEval V10, 66MHz
---



The number 3 was coming with dual display, board 23 inches, 81 LEDs, new PCB for the communication between the displays, control buttons and board, PCBB

V10 done by Steve Braid..


Maurice send it to me. However, again, Dutch customs were opening the computer...screws were loose; PCB was loose; the wood on the side was loose..

I fixed that quickly..
In conclusion, I was happy to receive

it a few days before the Tournament in Leiden: boy, how much I was happy... I was announcing this computer to the participants of the Leiden Meeting and more, that I will show it!!
Leiden Meeting day arrived and I left the World to see and admire the Number 3.





4) Around the Adinfer/ChessEval V10 at Leiden 2013
---

The reactions were overwhelming and, of course, everyone asked me how to buy one

....


This is not the end of the ADINFER-ChessEval Series!

New ideas and prototypes are coming... Wait and see

!